Daily's Place Amphitheater Information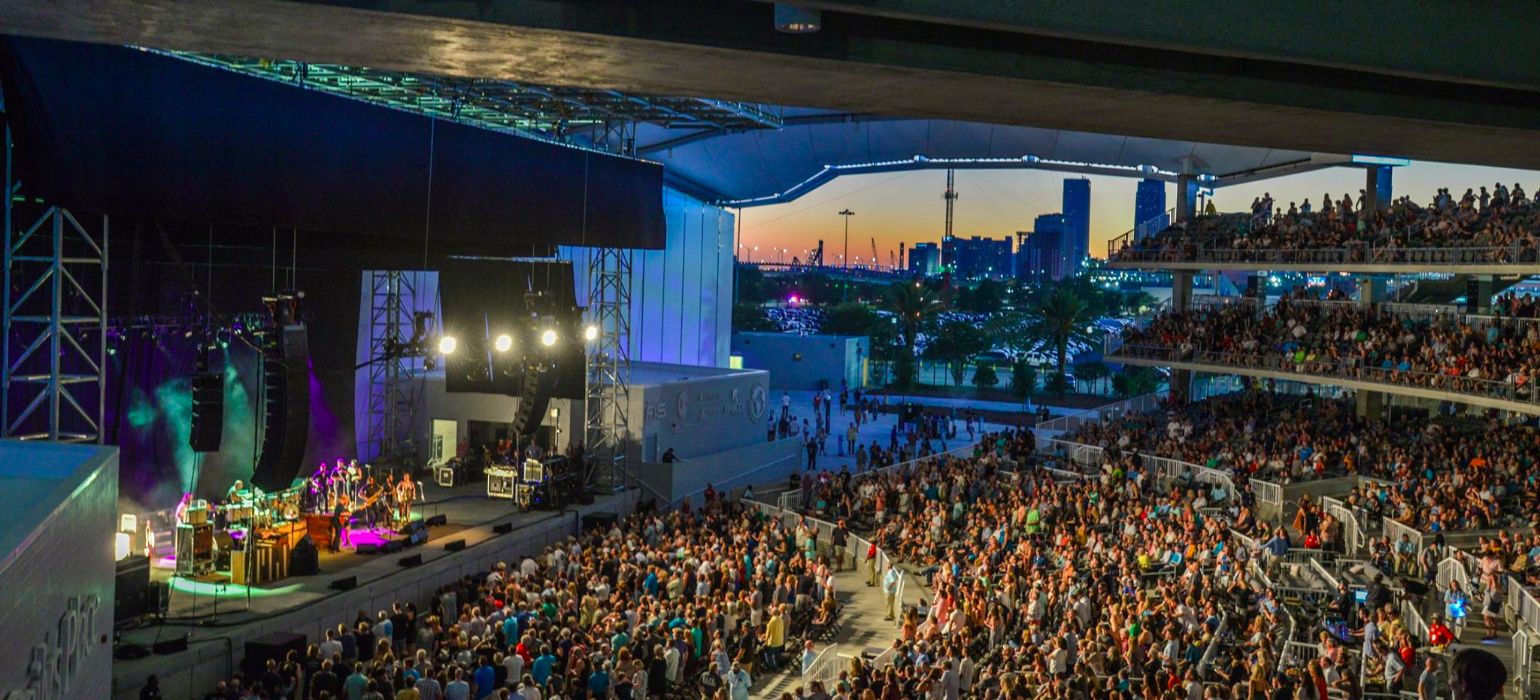 Daily's Place Amphitheater, named after Daily's a local convenience store chain, is the second-largest concert venue in Jacksonville behind only VyStar Veteran's Memorial Arena and ahead of the famous Moran Theater. Bryan Murphy, manager of the amphitheater, chose to open the theater in Downtown Jacksonville to promote venue diversity and draw crowds away from the smaller St. Augustine Amphitheater. The intent was to create a venue that would help renovate and replace the aging Metropolitan Park pavilion tent.
The first proposal for the venue came about after a city council meeting was held in January 2010, where plans to renovate Metropolitan Park were placed on hold. Council members knew that the aging facility needed renovations or replacement to satisfy the needs of the community, but it wasn't until early 2015 when further planning would commence. Shahid Khan, the owner of the Jaguars, proposed the development of the downtown area to help develop the area into a commercial, residential, and leisure complex. The plan was initially denied due to environmental concerns. But Khan redeveloped his plans for the Shipyards area after seeing the success of the Everbank Field renovations, which was finally approved by the city. The approval was followed by announcements of additions and renovations to Everbank Field, including the addition of an amphitheater in 2015. The $90 million budget for the enhancements would be split by the city of Jacksonville and Khan's Iguana Investments.
Construction began in August 2016 and was finally completed in 2017. The venue opened on May 27, 2017, with a concert by hometown sensation, The Tedeschi Trucks Band. The venue was designed by architectural firm Populous who were also behind designing all three sports venues in Jacksonville. The design was initially intended to have a sleek technical design resembling a spaceship but ended up with an indoor tiered setting that joined with the Jaguars Flex Field. The structure was designed to provide natural ventilation and allow natural lighting to help create an LED lighting effect. The venue 80-foot high ceiling and large concert stage also gives performers an optimal performing space for concerts, shows, and theatrical productions as well as movie showings. The designers succeeded in creating a welcoming open-air experience.
So with just over two years of experience as an open-venue, it's easy to see why Daily's Place Amphitheater has become so important to Jacksonville's entertainment center and industry.
For more information on the Daily's Place Amphitheater these additional pages may be useful to you:
Daily's Place Amphitheater Parking:
Read about parking options and rules at the Daily's Place Amphitheater.
Ticket Policies:
Read about the special ticket guarantee and refund policies when purchasing from tickets via this website.
Daily's Place Amphitheater Seating Chart:
View the Daily's Place Amphitheater seating chart and read information on various seating areas.